"Ein Lied für Dich (A Song for You)" - WINTER
Dear fans, friends, and colleagues,
Another strange, but in many ways also beautiful and rich year is drawing to a close. I hope that you and your loved ones coped well. Let's look to the future with hope.
Stay healthy, protected and have a few nice hours with all the beautiful music in the world. I wish you a nice pre-Christmas season with cordiality and warmth
Yours, Felicitas
I would be happy to see you at the Advent services: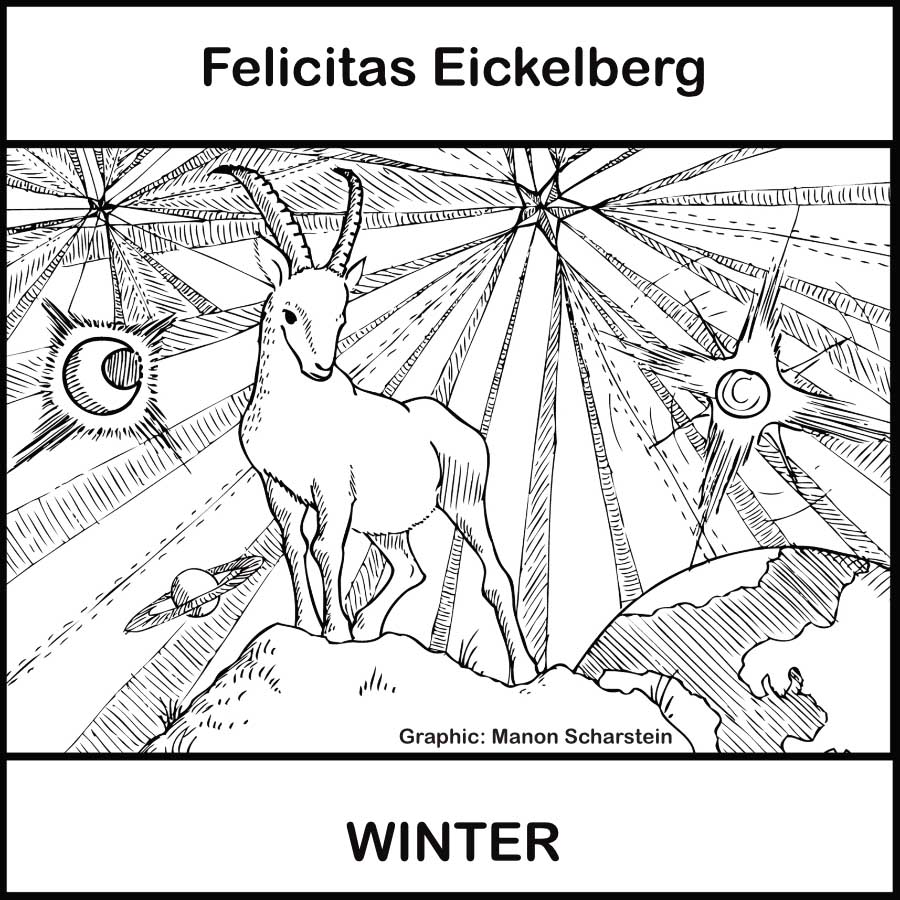 If you are still looking for a Christmas present, I recommend the WINTER CD. To order, just send me an email .
Please note: Due to the current situation, changes at short notice cannot be ruled out. Corona attendance rules apply.

Church Music / Playing the Organ for Church Services
I perform regularly at the organ during the services at various churches in Berlin.
A selection of my concerts, performances and musical accompaniment of the last few years:
November: concert for the release of the CD "WINTER" at the Ölbergchurch
November: Autumn song recital in the parish hall of St. Annen with piano (Felicitas Eickelberg) and vocals (Hans-Beatus Straub, tenor). We played works by Schumann, Schubert and Strauss as well as opera arias.
June: Participation in the creative competition of the music school Oder-Spree Jutta Schlegel Fürstenwalde. The result can be seen on YouTube: https://youtu.be/bFOHj1SVD5U. The compositions come from students at the Fürstenwalde Music School, supported by their teachers. Contributions with Felicitas are: 6:21 min Richard Kullina's water drops on the piano together with Felix Korinth on the viola and at 18:48 min the song Keep Distance by Matthias Menzel.
Frauenmärz: radio art contribution with the Leo Kerstenberg Music School: vocal-musical presentation by 4 music teachers about their own educational and artistic work. Podcast (in German): hearthis.at/theda/frauenmaerz2021podcast/ (at 17:13 min joined impros, at 39:45 interview with Felicitas Eickelberg).
Church Music / Playing the Organ for Church Services:
Coming Soon: Organ Improvisations Vol. II
My second organ CD is in progress, recorded on the Schuke organ in the 12 Apostle Church. You can look forward to a cross-section of the church year, as well as highlights such as Gershwin's Summertime, trout variations, some classics of film music in a medley and a new improvisation of children's songs.
Many thanks to the team for making this possible, especially to the church musician Christoph Hagemann, but also to Pastor Burkhard Bornemann, to the church staff and of course to my sound engineer Volker Greve.
Music is the language of passion
All
Piano
Organ Play
Choral Direction
Orchestral Direction
Varia
'Fux, die hast du ganz gestohlen' – Organ Improvisations
Kontakt zu Felicitas Eickelberg
Sie haben Fragen zu meiner Musik, möchten eine CD kaufen, ein Konzert arrangieren oder eine kreative Idee umsetzen?
Schreiben Sie mir eine E-Mail oder nutzen Sie das Kontaktformular. Ich freue mich auf Ihre Nachricht!
Ihre Felicitas Eickelberg
E-Mail: music@felicitaseickelberg.com