"Water Games" – If Spring
Due to the measures taken in the course of the corona virus, I will not play at concerts or services until April 20, 2020. Stay healthy, calm, and and enjoy my music online.
I won't be playing for church services until April 20th. Hopefully, we can meet again after the Easter holidays. Take care of yourself and your loved ones!
Church Music / Playing the Organ for Church Services
Sun, May 3rd 2020; 10:00 a.m.

Sun, May 10 2020; 10 a.m.

Sat, May 16 2020; 1:30 p.m.

AKD workshop Miriam service Musical accompaniment at the preparatory meeting of the women 1:30 p.m. till around 5:00 p.m.

Sun, May 24 2020; 11 a.m.

Service at the Ölbergkirche

Sun, May 31 2020; 10 a.m.
You can listen to me regularly during the services at the Martin Luther Church (Berlin) playing the organ.
A selection of my concerts, performances and musical accompaniment of the last few years:
January: 3rd performance of the song evening "whats up?

A musical travel blog with duets from all over the world "with the sopranos

Rita Anton and Sibylle Fischer.

Many thanks to the fantastic audience who made this evening so magical!



Church Music / Playing the Organ for Church Services: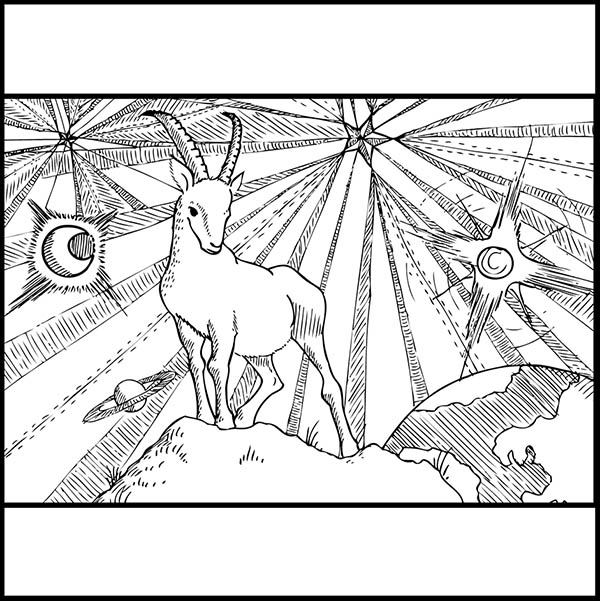 Currently my new CD "Winter" is in preparation. Stay tuned!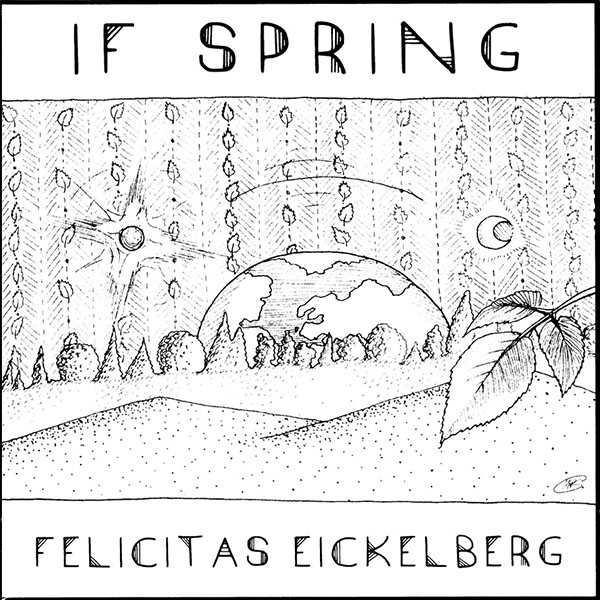 Part one: Evening
1. Greensleeves Variations
2. Water Games
3. Deep
4. Into the Wild
5. Fountain
6. Big D
Part Two: Morning
7. If Spring
8. Blissful
9. Clusters
10. Stalactites
11. In My Head
12. In Tierces
13. Pulsations
"If Spring" tells of:
What happens if spring returns to a dead heart;
What could have happened if spring had come to a love that was unhappy;
What could happen if spring came again this year and every year; in the heart AND in nature; and in life.
All these "Ifs" and the whole spring; in the heart and in nature, shall be expressed in this music.
Recording of: Felicitas Eickelberg at the Steinway D Piano
Location: Nicodemus Church Berlin, Feb 2017
Released: Dec 2018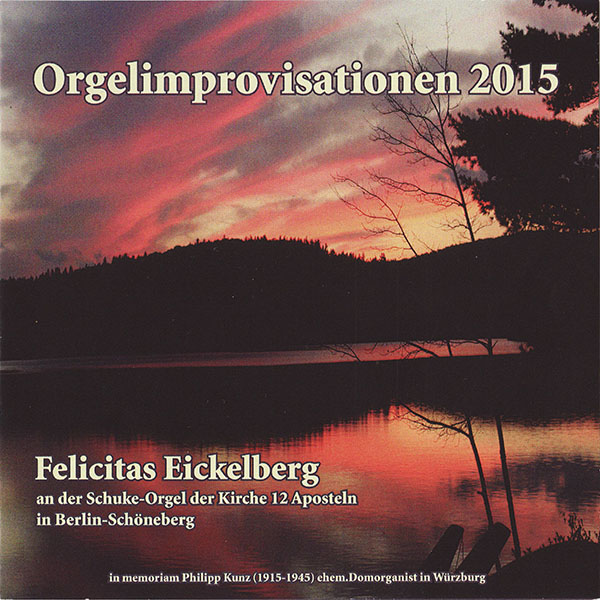 Organ improvisation
Recording: Felicitas Eickelberg at the Schuke organ in the 12-Apostle Church Berlin-Schöneberg
Sound editor: Stephan Kunz
Released: 2015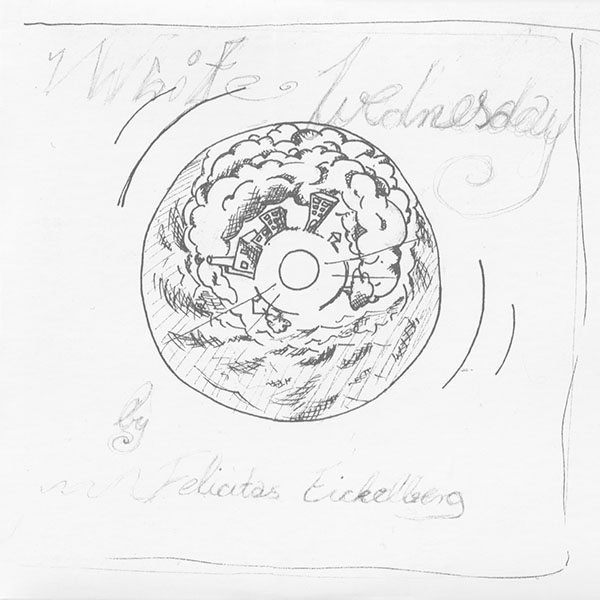 Piano Solo Improvisation
Recording: Felicitas Eickelberg at Steinway B Flügel
Sound editor: Stephan Kunz
CD cover: Manon Scharstein
Released: 2010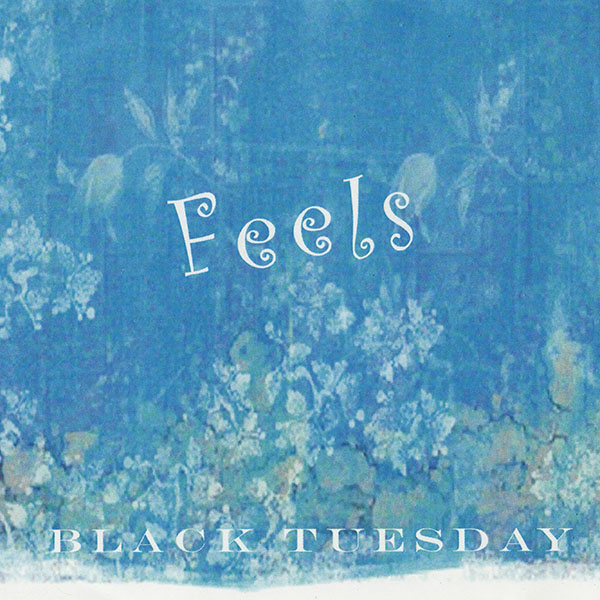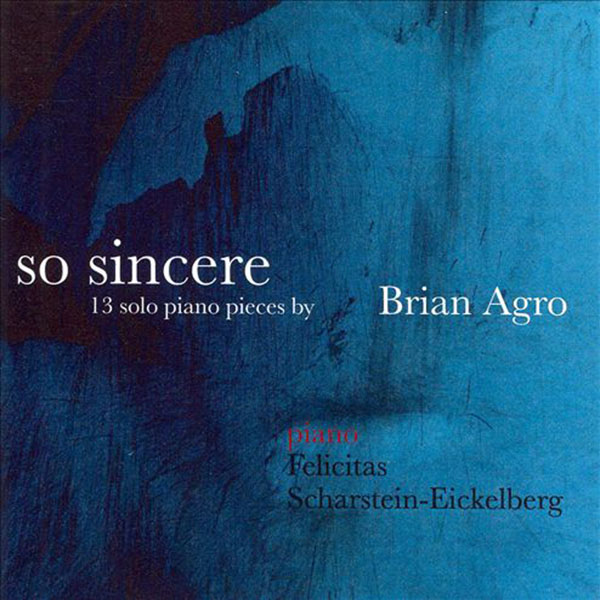 Solo Piano Pieces
Composer: Brian Agro
Piano: Felicitas Eickelberg
Released: 2007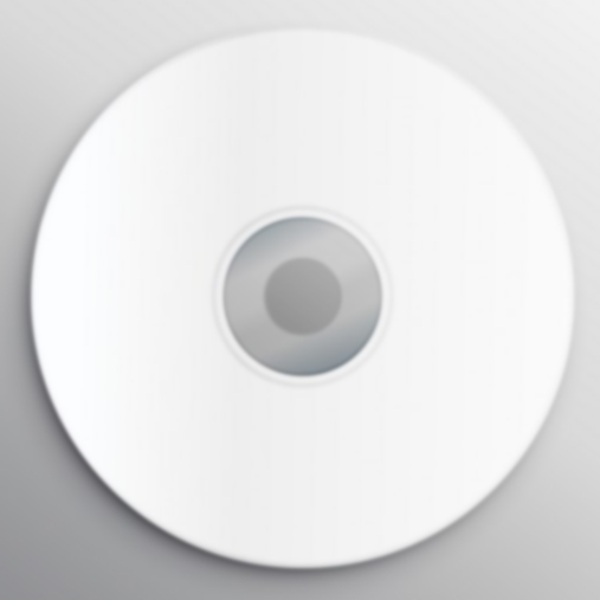 Piano Improvisation
Sound editor: Stephen Sippel
Released: 2001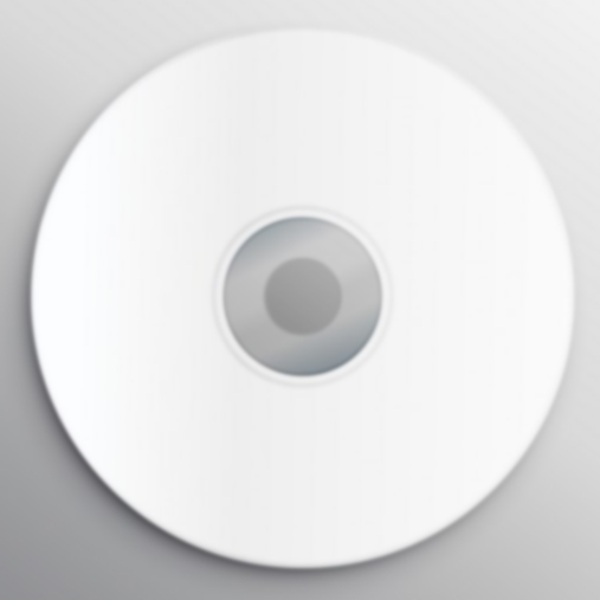 Piano Improvisation
Recording: Marc Haussmann
Released: 2000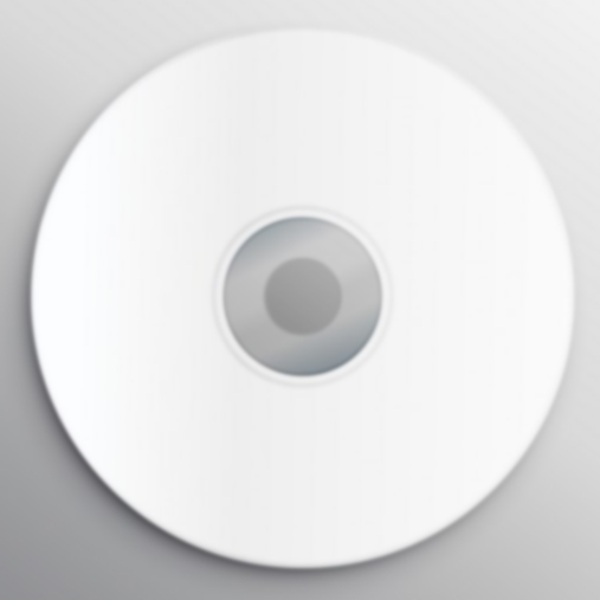 Piano Improvisation
Sound editor: Marc Haussmann
Released: 1999

Music is the language of passion
About Felicitas Eickelberg:
born 1965 in Bensberg near Cologne

musical education in piano playing and singing from an early age

taught in violin and piano at the Rheinische Musikschule in Cologne since the age of 8

from the age of 15 she was a member of the Youth Symphony Orchestra (JSO) of the Rheinische Musikschule Köln, where she played the symphonic works of the great composers in the second violin. Beethoven, Schubert, Bizet, etc.

Schooling at Hildegard-von-Bingen-Gymnasium in Cologne-Klettenberg; at the time member of the school choirs and school orchestra; lively musical activities at school

After school she studied piano, chamber music, and song accompaniment in Cologne and Karlsruhe, with a minor in violin

further courses in song accompaniment in Berlin and Stuttgart

from 1987 piano teacher at the Rheinische Musikschule

1987 and 1994 numerous master classes in piano; work as accompanist; participation in competitions; 1989 3rd prize in the Cologne Chopin Competition

since 1987 composition lessons and performance of various compositions on different occasions

1995 birth of daughter Manon

1999 move to Berlin

1999 first CD with improvisations

since 2001 piano teacher in Berlin

since 2001 conductor and improviser

Violin lessons with Tarla Grau

2008 began with organ playing, singing lessons, and studying church music (C)

2009 she began with viola lessons (instead of violin) with Irene Lahiri and Felix Korinth

2012 piano teacher and ensemble director in Fürstenwalde

2015 daughter moves out and a new era begins

2016 return to classical piano and chamber music after a 10-year break

continuous singing lessons, currently with Rita Anton

2018 started again with composition, release of the ensembles in Fürstenwalde

2019 first trumpet lessons
Piano / Organ / Composition
1969 first piano lessons with Grete Wehmeyer.
1973 Rhenish Music School Cologne with Jürgen Troester.
Participation in the competition "Jugend musiziert" (youth plays music) and winning of various prizes of the regional, county, and federal level, especially with Chamber music.
Member of the Johannes Choir in Cologne under Gerda Schaarwächter.
Cologne Academy of Music; piano class of Prof. Roswitha Gediga.
1984-1989 studied piano (diploma) and piano pedagogy.
Graduation: piano with distinction and state exam IP 1989 and 1988.
Won prize at the Cologne Chopin University Competition in 1989.
While Studying: founding of a piano trio and chamber music with Amadeus Quartet and the Alban Berg Quartet.
From 1987-1997 piano teacher at the Rhenish Music School Cologne.
1989-1994 studied song accompaniment with Hartmut Höll.
1989/90 Song courses in Berlin and Stuttgart as a musical companion for courses by Dietrich Fischer-Dieskau together with the baritone Klaus Häger and various other singers.

Composer since 1989

1997 Performance of the "drei Lieder nach h.c.artmann" at the Cologne Philharmonic during the "Jugend musiziert" federal prize concerto.
Started piano improvisation with various Cologne Jazz musicians.
Work as a répétiteuse at various theaters of Berlin, including Neuköllner Oper.
Since 1999, recording of various improvisational CDs; lessons with Berlin jazz musicians and composers; concerts with solo improvisations, chamber music, as well as songs in Berlin and the surrounding area.
Piano teacher at the Leo Kestenberg Music School in Tempelhof-Schöneberg since 2001.
2009-2013 study of church music in Berlin at UdK/EKBO and in Herford at the College Of Church Music. Graduation: C exam in organ play, choir and child choir conduction; secondary subject violin, now viola.
Since 2012 piano teacher at the Jutta Speidel Music School in Fürstenwalde/Spree (LOS).
2013-2014 organ guest study in Herford.
Working as a freelance organist at various churches in Berlin. Improvisational concerts with the organ.
The first organ CD is produced in 2014.
Member of various amateur orchestras in Berlin.
Member of the Tempelhof Symphony Orchestra (viola) since 2016; since 2017 of the SOS (Schöneberg Symphony Orchestra).
Since 2016 occasional organ play at the Martin Luther Church Neukölln, the 12-Apostle Church in Schöneberg and various other churches in Berlin.
Chamber music concerts in Berlin since 2016
October 2017 performance with a singer at the choir association in Bonn.
Training in conducting with various teachers and in several courses.
Cologne pianist and organist Felicitas Eickelberg began playing the piano at the age of four. In her Hometown, she grew into a vibrant, musical scene in which improvisation, new music, classical music and jazz led a peaceful coexistence. She studied classical piano at the Academy of Music in Cologne before turning to improvisation and taking lessons from a few Cologne jazz musicians. Eickelberg took private lessons in composition with various Cologne and Berlin composers. Her compositions have often been performed in Cologne.
Since 1999, Berlin has been her centre of life, where she performs her improvisations in various locations of the classical, jazz, and church music scene. Important influences from Berlin are Antonis Anissegos, Andreas Eschen and Julia Kadel, who was her piano student at a young age. In 2012, Eickelberg also graduated with a degree in C church music in Berlin, accompanied by various well-known organists and improvisers of the church music scene such as Stefano Barberino and Dirk Elsemann. She is currently working on the musical version of a psalm.
Her improvisations are both tonal and atonal, jazzy to classic, freely associative to dreamy. Eickelberg also accompanied silent film concerts on the organ.
In her current CD, "If Spring", her sixth, which came out almost exactly 20 Years after her first CD (Blue Saturday), she proves she has found her style and is comfortable in it.
Felicitas Eickelberg started playing the organ in 2008, when a former student sat her on the organ bench for the first time. From there fate began.
She then studied in the C-Seminar Berlin, first in the Catholic, then, after the conversion in 2009, in the Protestant C-seminar at the EKBO, in the subjects organ playing, choir direction and children's choir direction.
She completed all three subjects with the C exam in 2013.
Felicitas' organ teachers included Ingo Schulz, Helmut Höft, Dirk Elsemann, and Stefano Barberino. Günter Brick and Tobias Brommann trained her in choir direction and children's choir direction.
At the Hochschule für Evangelische Kirchenmusik in Herford she completed two semesters guest study with Christoph Grohmann, organ.
From the beginning, her specialty was improvising on the organ, an heirloom from the late former cathedral organist of Würzburg, Philipp Kunz. That was the grandfather of Felicitas.
Unfortunately, she never got to know him because he fell early in the war. She dedicated her first CD with organ improvisations to him.
Since 2008 she has been playing during church services regularly at the Martin Luther Church in Neukölln, the 12 Apostle Church in Schöneberg, the Nicodemus Church in Neukölln, and many other churches in Berlin.
She has accompanied several silent film concerts, including in the REFO Moabit and the Genezareth Church Neukölln.
As a choir singer she sang, among others, in the Berliner Domkantorei, in the Bach choir of the Gedächtniskirche, and currently again in the Ölberg choir in Kreuzberg, where she also helps as a assistant in rehearsals.
From 2014-2015, she directed the singing school of the Confessional Church in Berlin-Treptow.
Musical services and the accompaniment of women's services by Evas Arche are currently regularly on her program.
In addition, she also accompnies various church events musically, organizes organ tours for children, and holds lectures on church music topics.
The June / July 2019 edition of the Martin Luther parish newspaper is an ode to the church's 60-year-old organ. In this issue, there is an article by and about Felicitas and her connection to organ playing. It starts on page 6: Read PDF (in German) or view on the church page.
All
Piano
Organ Play
Choral Direction
Orchestral Direction
Varia
'Fux, die hast du ganz gestohlen' – Organ Improvisations
Contact to Felicitas Eickelberg
Do you have any questions about my music? Would you like to buy a CD, arrange a concert, or implement a creative idea?
Email me or use the contact form. I look forward to hearing from you!
Yours, Felicitas Eickelberg